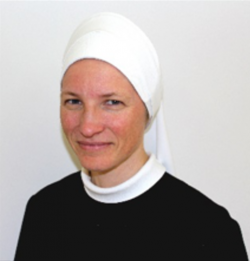 Gabriela Zinkl SMCB, SThD
Guest Professor
BIO
Born in Bavaria (Germany), Sr Zinkl holds a Doctorate in Theology from the University of Regensburg (Germany, 2011), with a specialization in Canon Law. She was Lecturer for Methodology and Graduate Assistant and Lecturer for Canon Law at Regensburg University (2003-2010) and Guest Lecturer for Canon Law at Technical University Dresden (Germany, 2015). In 2012 she was appointed as Judge for annulment cases at the Diocesan Tribunal of Regensburg and also worked as Canon Lawyer in the Diocesan curia. She joined the religious Congregation of the Sisters of St. Charles Borromeo in 2015 and teaches Canon Law at the STS in Jerusalem since 2016.
AREA OF TEACHING
Canon Law
RECENT PUBLICATIONS
"Recht und Gerechtigkeit." Mittendrin – Magazin der Deutschen Pfadfinderschaft St. Georg 78 (2016): 60-61.
"Den Fuß in der Tür!? Frauen in Führungspositionen der katholischen Kirche." Anzeiger für die Seelsorge 122 , no. 10 (2013): 19-23.
"Schwestern im Glauben." In Frau, dein glaube ist groß: Wie Frauen der Kirche die Dinge sehen, edited by Claudia Auffenberg, 56-61. Paderborn: Bonifatius, 2013.
Zwischen Heilssakrament und Management. Die Ämterstruktur der katholischen Kirche aus der Perspektive des Kirchenrechts und der betriebswirtschaftlichen Organisationstheorie, Regensburg: University Press, 2011.
Urlaub vom Wort Gottes? Ein Plädoyer für Ferienpredigten statt Predigtferien. Gottesdienst no. 13 (2011): 105-107.
Leitfaden Wissenschaftliches Arbeiten für das Studium der Katholischen Theologie an der Universität Regensburg. Regensburg: University Press, 2005ff.