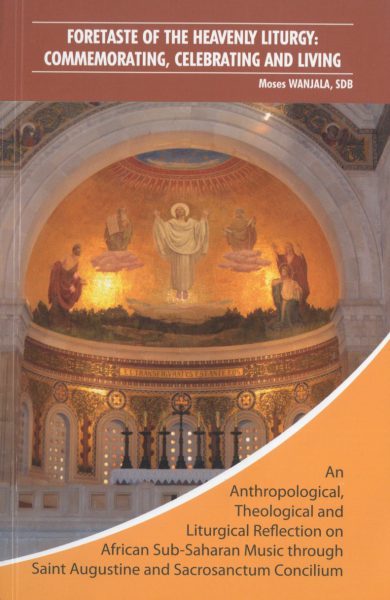 By Moses Wanjala SDB
Culture, Bible and Liturgy animated by Music are inseparable realities that express and reveal a deeper sense of belief and feeling of what an individual or a community experiences from within one's heart or within the society.  An African, like any other Christian, is called to a Liturgy of life in Christ:  "Commemorate, Celebrate and Live".  It is clear that when one comes into contact with the God who loves us, mere speech is not enough to express the inner feelings of the heart.  One genuinely sings from his heart, especially when he feels loved so much more than he deserves; or even when he is troubled, he cries out!  Sacrosanctum Concilium 8 offers us the base for our reflections when it reminds us that "as pilgrims in the earthly Liturgy, we take part in a foretaste of the heavenly Liturgy".  
Inspired by St. Augustine and Sacrosanctum Concilium, this book aims at offering some reflections on African music, and how the African values can be enriched by Biblical values, bearing in mind the liturgical and musical language of perception; sacramental experience; aesthetics in beauty and authenticity; transcendence and presence of God.  Music with Dance unfolds a communication, love dialogue and union between: one person and another; persons and the universe; persons and God.  May we always appreciate: Liturgical music as an instrument for a holistic formation; the New Song of Christ as a means to foretaste God's love and liberation hic et nunc, here and now; Liturgical music as a way to celebrate and live the Lord's Pasch amidst our beautiful but often challenging global realities today.  This book is prepared for all God's people.
© 2015 By Moses Wanjala, SDB