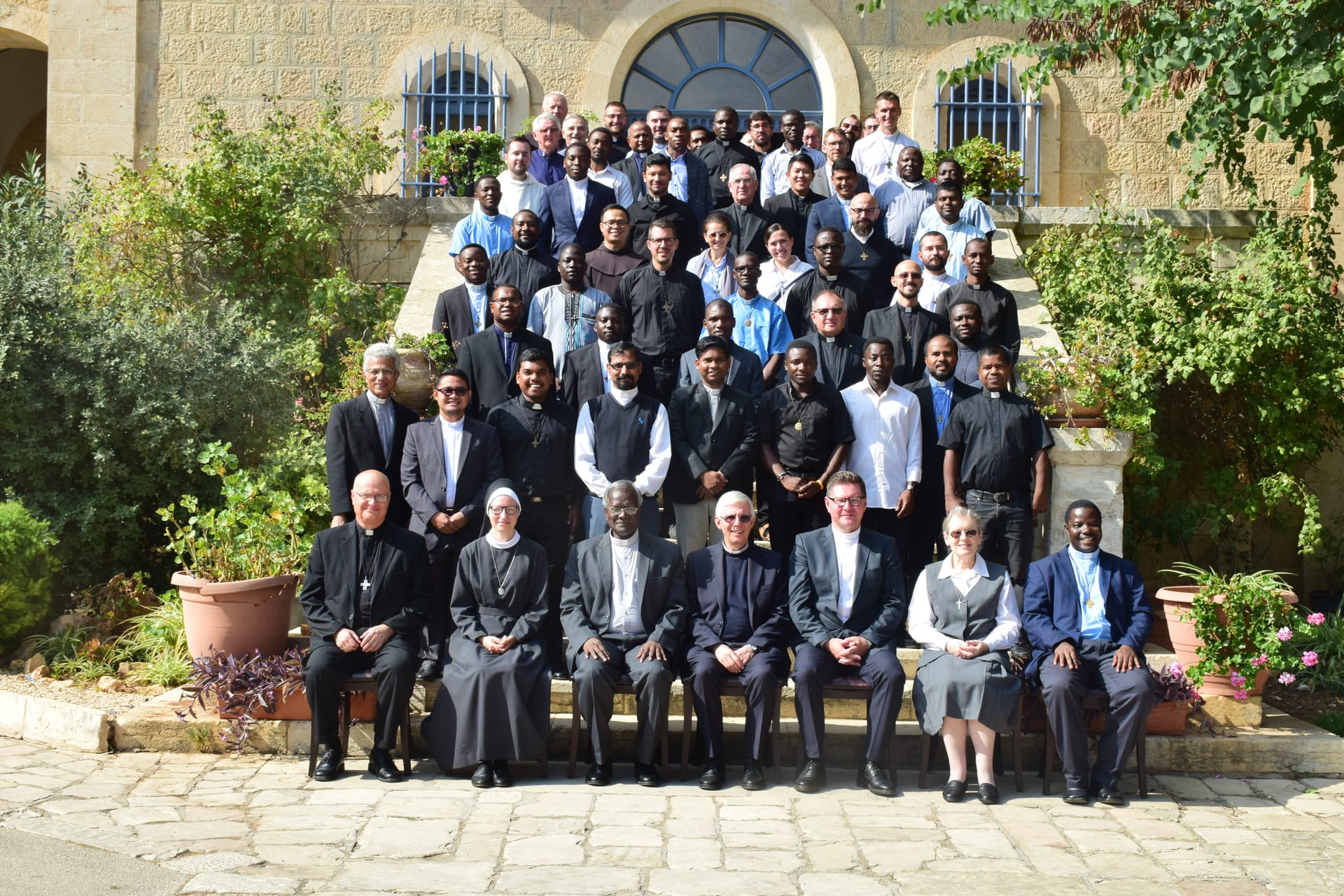 On 15th of October 2022, the Salesian Pontifical University Jerusalem Campus organized its annual Dies Academicus. The event commenced at 9.30 a.m. with a short prayer service. The Ratisbonne choir invoked the presence of God through their choral piece, 'Amazing Grace.' More than 70 participants graced this event through their active presence and participation. The entire event comprised two important phases of the academic life of the Institute. In the first segment Fr. Andrzej Toczyski, the Principle of the University reminded the students the importance and purpose of the academic gathering. Bro. Nathanael George then gave a powerful visual presentation looking back on the highlights of the past Academic Year 21-22.
Later, as part of the annual academic tradition, Fr. Eric John Wyckoff welcomed and introduced the first-year students through a creative PowerPoint presentation. This was followed by the presentation of all the Professors and Teaching Staff and the area of their expertise. Fr. Matthew Coutinho did the honour of introducing all the teaching faculty members of the University. After these presentations, the entire college gathered at the entrance to pose for the official annual picture of the ongoing year 2022-2023.
The second phase of the event began at 11.00 a.m. in the Don Bosco Hall. After a solo performance of 'Laudamus Te', sung by Deacon Florimond Kazadi Kabale. Fr. Stanislaus Swamikannu sdb, the Rector of the Ratisbonne Salesian Theologate, introduced the Speaker and the Guest of Honour of the day, Rev. Fr Andrea Bozzolo sdb, the Rector of the Salesian Pontifical University in Rome. In his Lectio Magistralis entitled "The Reciprocity between Faith and Sacraments", he shed light on several relevant issues. His lecture was well prepared and well presented, followed by a question and answer session for further clarifications and interactions, moderated by Fr. Stan Stanislaus Swamikannu. The program came to an end with a vote of thanks proposed by the Principal, Fr. Andrzej. A solicitous fellowship meal was offered for all the participant.
Indeed, the Dies Academicus was a rich moment of learning and faith sharing for us all.
We are grateful to the Christian Media Center who covered the event. You may view a short video made on the occasion, that summarizes the event.
Jameson Motilal Nayak

15th October 2022