Dear Faculty Members and Friends,
We congratulate Fr. Dr Samuel Obu,
a Professor at STS, on the publication of his Book
entitled: Communion and Authority in the Church.
Anglican and Roman Catholic Perspective (LAS
Roma, 2020) which focuses on the ecclesiological
perspective of the Anglican-Catholic dialogue.
As research is an essential part of the mission of the
Professors at STS, we are delighted about
Fr Samuel's publication and express our good
wishes for his future research and teaching at STS.
Congratulations!
Fr. Andrzej Toczyski
STS President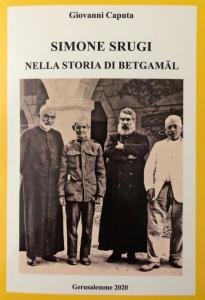 STS Publications
We also congratulate Fr. Giovani Caputa, a
Professor Emeritus of the STS on his new Book
entitled: SIMONE SRUGI NELLA STORIA DI
BETGAMÃL, (STS Publications Jerusalem 2020).
It is the first and very relevant historical-critical
research on the life and spiritualty of the Venerable
Simon Srugi.
Fr. Andrzej Toczyski
STS President